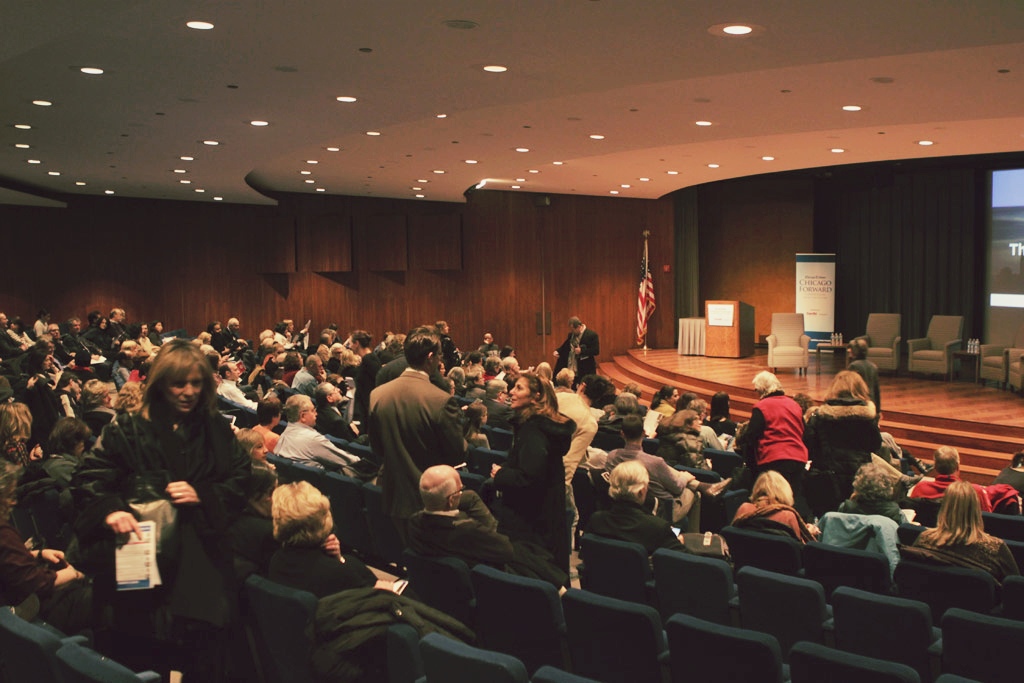 Presented by the Chicago Tribune, the Chicago Forward: Coversations About The Future & Future of The Arts in Chicago event on March 13th, at an auditorium in the underground of Chase Bank in Chicago, vice president and associate editor Joycelyn Winnecke spoke of supporting conversations to serve and promote the viability and wellness of the cutural scene in Chicago.  I bought a ticket and was eager to join the crowd at this event after reading in the paper on Monday, "What does it mean to be a creative professional in Chicago?"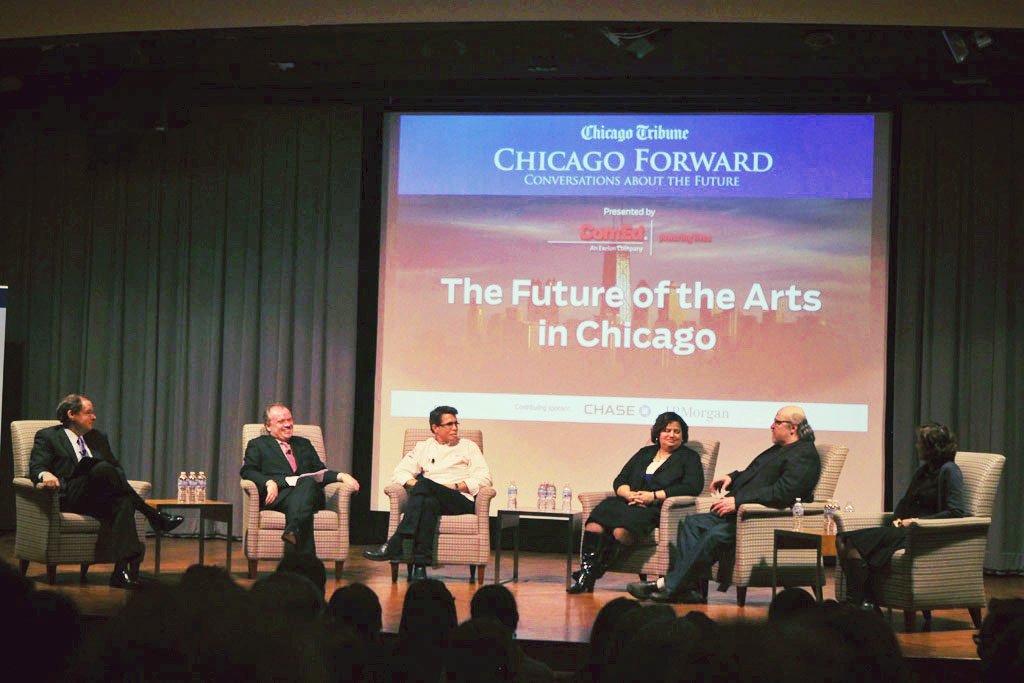 Chicagoans from left, co-moderators Bruce Dold and Chris Jones alongside a panel of guests including Rick Bayless, Michelle Boone, Tony Fitzpatrick, and Jeanne Gang.  The discussion began with defining the liviability of the city of Chicago that each has made home to their career over the years.  Artist and playwright Tony Fitzpatrick, and nationally acclaimed chef and restaurateur Rick Bayless, touting Chicago, agreed that it has a lot to offer less found in other major cities, and that the quality of theater (Tony) and restaurants (Rick) in Chicago is just about as good as it gets.  Jeanne Gang, the founder of Chicago-based Architectural firm Studio Gang Architechts, said that Chicago architecture is very well-known and respected throughout the world, and that she thinks it unique of Chicago how well different architects know each other and work together on different events around town, often.  While disccusing Chicago as a livable city, Tony Fitzpatrick mentioned it being a matter plain to do with cost, that the operational expenses of his businesses in Chicago factors out to less than half what it might in other places.  Rick Bayless, who won the first season of Bravo's "Top Chef Masters," owns now three different restaurants in Chicago and has recently taken a shot at innovative business ventures in Chicago, such as opening food kiosks at the airport that serve on-the-go preparations that he says they have been very happy with what they have been able to develop.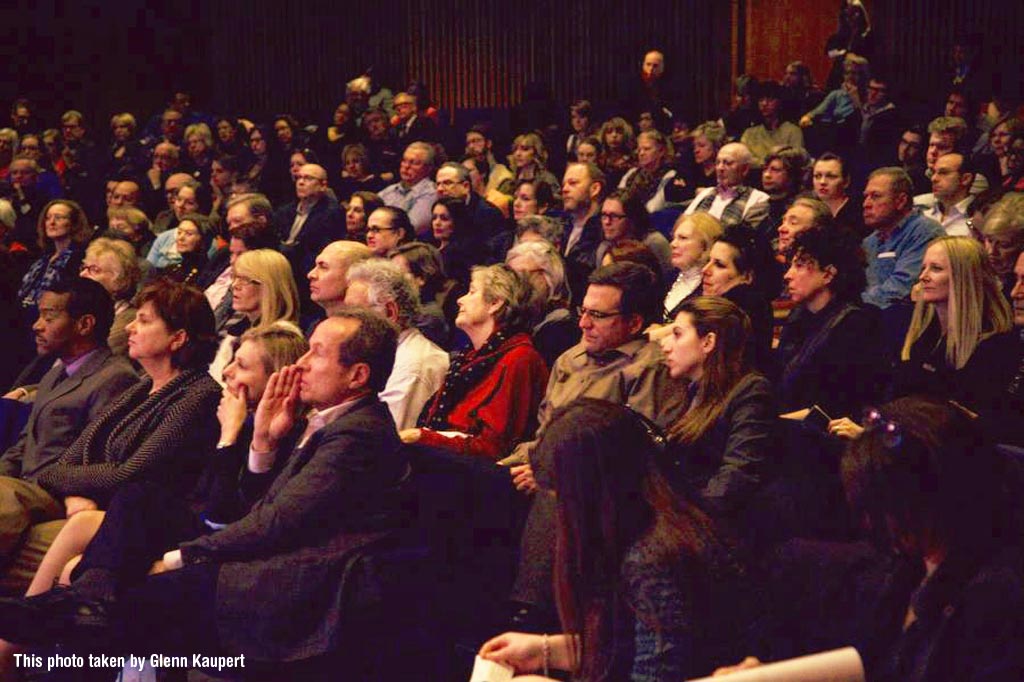 Co-moderator Bruce Dold, editor of the Chicago Tribune editoral pages, acknowledged that a possible solution to end surging levels of violence throughout the city will come through leaders in different fields banding together on key issues.  Michelle Boone, commissioner of the Chicago Department of Cultural Affairs and Special Events, said she and Mayor Rahm Emanuel are working with the public schools to revive arts education programs, and spoke of the importance of a plaform of creative expression for young people to come together and talk about societal change and issues relating to violence.  Michelle announced the relocation of the Gospel Music Festival to South-side neighborhood Bronzeville, as part of an attempt to bring high-quality cultural programming to an under-served part of the city, a success. In saying how art offers an "amazing balm to a culture," Tony Fitzpatrick related  impressions made on him while a youth in Chicago, eloquently describing art-making as empowering, that "in the face if the worst calamity, art can lift you above furious loss."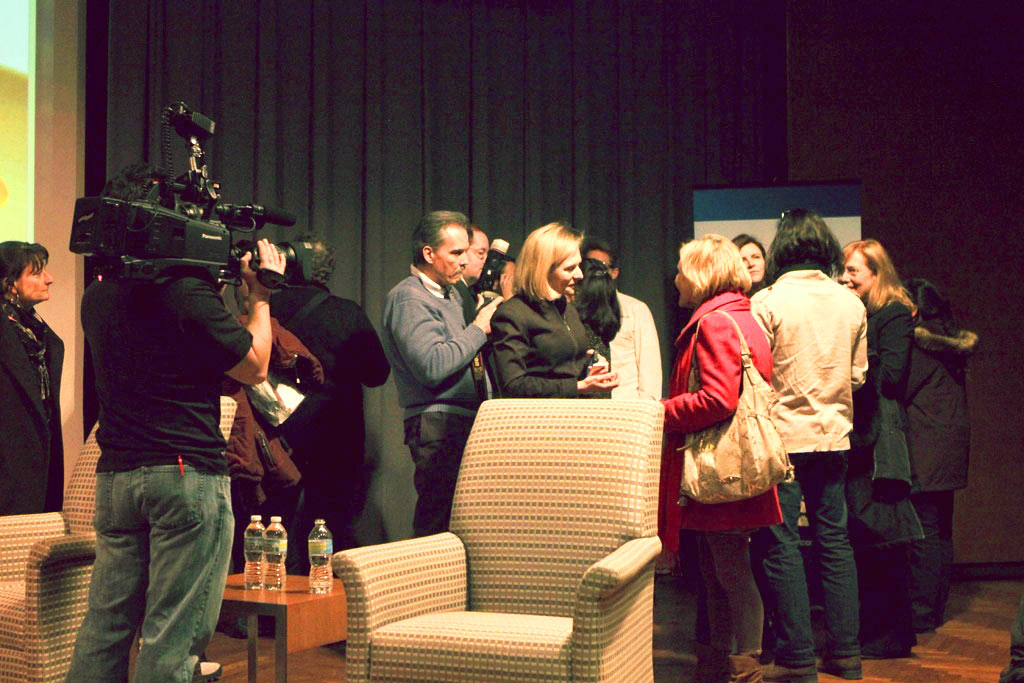 Much of what went around in a back-and-forth between Commissioner Boone and the co-moderators and other panelists on Wednesday had to do with funding.  The panel discussed ideas that other cities such as New York had experimented with in the past to fund the reform of art education in public schools.  Michelle said that the Mayor's office has made of draft a budget that looks to address everything specific to this goal. Relating to the "Creative Arts Fund," the budget require approximately fifty million dollars to secure a plan for the following three years.  Names of several Chicagoans that have influenced the future of the arts in Chicago mentioned throughout the evening, included Archibald Motley and Jean-Claude Brizard.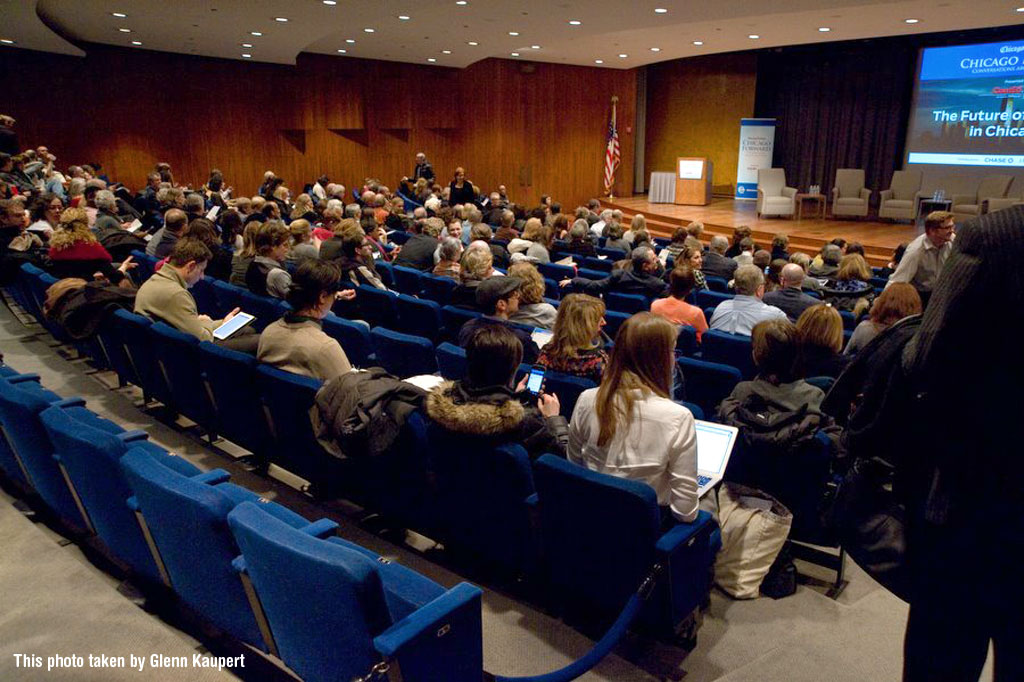 Thanks to the newspaper for holding this event to focus on cultural interestedness and improvments to be made in order to better levels of urban attractiveness. The calendar of upcoming Trib Nation events on their website, and there are pictures from the event in this album.