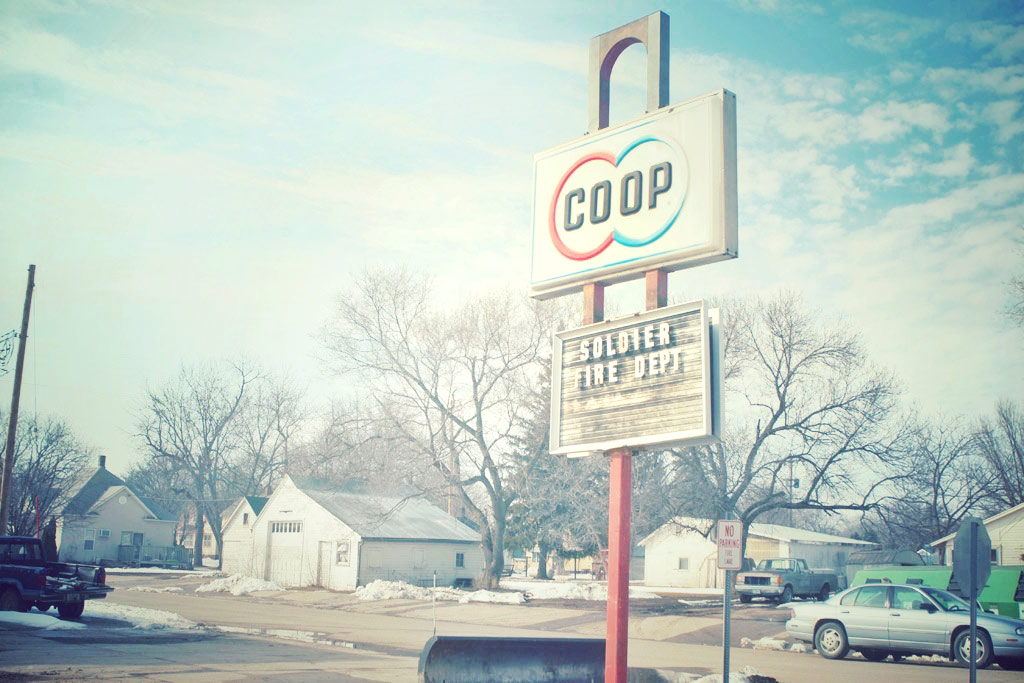 Up in the hills of Western Iowa, farmers are seeing signs of another drought year. Wintertime temperatures in Monona County, home to a small town called Soldier, have been warmer than average this season. Last week, on a short trip to Soldier and a farm nearby, along the way I saw a small billboard offering a definition, reading "Organic Farmer: One who pulls weeds." I spoke with a farmer in Soldier who is one of the very few in the area whose land and operation is licensed certified-organic by the USDA. As we drove to a place belonging to a friend of his, the farmer described to me how the creation of dirt roads and fence lines was a landscape change that lead to topsoil quality downturns, interruption to regenerative cycles of wildfire encouraging natural erosion. The farmer was able to show me more of the territory and introduce me to a good friend of his down the road, an auto mechanic and the owner of a hundred-acre tract of land the type they refer to as mostly good forest, pasture (for grazing) and creek. Take a look at some pictures of the trip here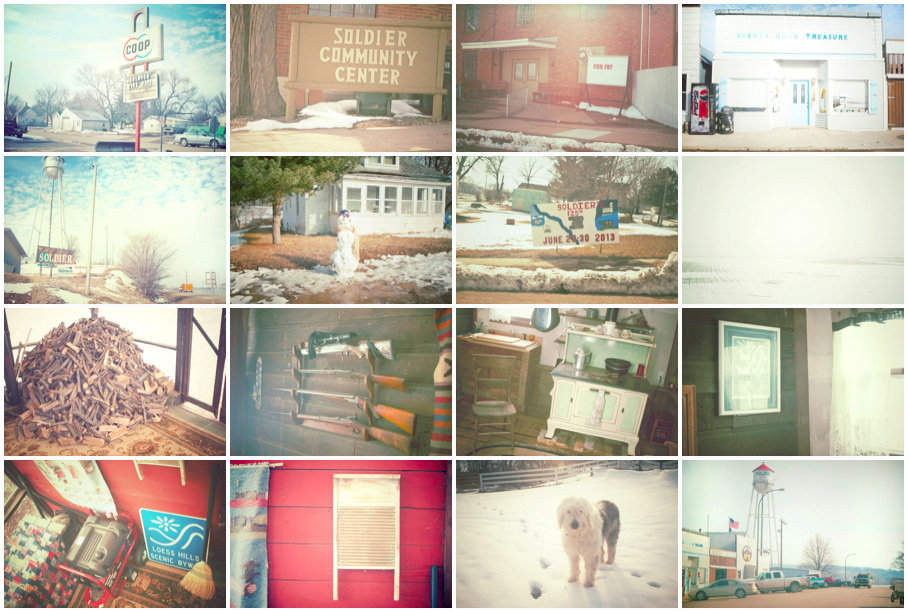 The mechanic was busy taking a look at a pickup and talking with the owner about the issue with his truck. Together I sat with the farmer and the mechanic for awhile in the office of his shop. A small television was playing in the corner above the desk opposite where the farmer had found his seat (auto salvage). Beside him, a cat was dozing on the next, near where the farmer's dog had settled in on the floor in the middle of the small room. They shared some of the details about what they pay now for taxes on the land they own. We discussed the farmer's engagement with the country board addressing amendments to agricultural property taxes last year that have made it a challenge more than ever for these folks to make a good modest living. The pasture the mechanic owns is for grazing cattle only. He now pays more than twice as much property taxes than before last year. In 2012, the state of Iowa rolled out an updated version of its Corn Suitability Rating (CSR2), a rating system that serves a wide diversity of agricultural landscapes to define number values describing the aptitude of the land to be grown with row-crops. The tax looks at what was found to be the Corn Suitability Rating of the land, and the property is taxed based on figured value, regardless of whether it is planted with corn or soybean row-crops, or otherwise. Agridatainc.com, here, says that The CSR Rating "is intended to measure one soil's yield potential against another over time. All soils start at 100 and points are deducted for land conditions such as slope, water and climate." The farmer I spoke with pointed at tall hills rising up from a road and explained that even though nobody plants rows of anything up there, in addition to other reasons doing so would cause the hill (mountainous deposits of silt) to erode into the valley, such land still gets the CSR, regardless of slope, and that means money out of someone's pocket.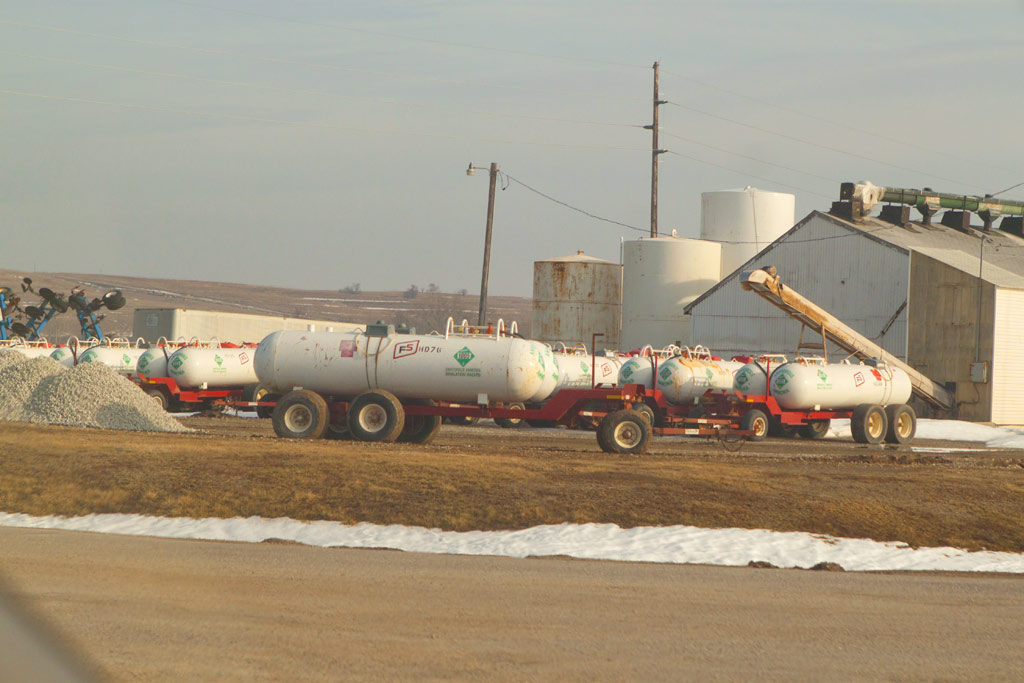 Chemical fertilizers have been made to answer to the increasingly demanding implications that agricultural land should be made to turn a considerable profit, and is widely used. This picture shows an armory of chemical fertilizer, used to promote both growth rate and a high-yield. Last year, Sun Magazine (literary journal) ran a memorable article written from the child's perspective about their family after their father was near a tank of anhydrous ammonia when it sprang a leak and nearly was killed. What I remember best from the story is the narrator's point of relief knowing that their father would eventually get better after all, together with the child's siblings finding humor in watching their father making a fuss with dishes in the sink, when his eyes were swollen shut, and noises instead of talk as they were all he could. In Soldier, there's a story about someone who went unnoticed for seventeen years driving with an annulled license, until seventeen years later he finally decides to pay the hundred dollar fine he has against his legal privilege to drive. We talked about how in the future, cars will drive themselves, that they already have that now and about what, if cars could drive themselves, the state might do instead without all the money they're getting ticketing drunk drivers. Talking, we went from one thing to next, finding plenty of different things to remark about relating to the division of things in town and life out in the country.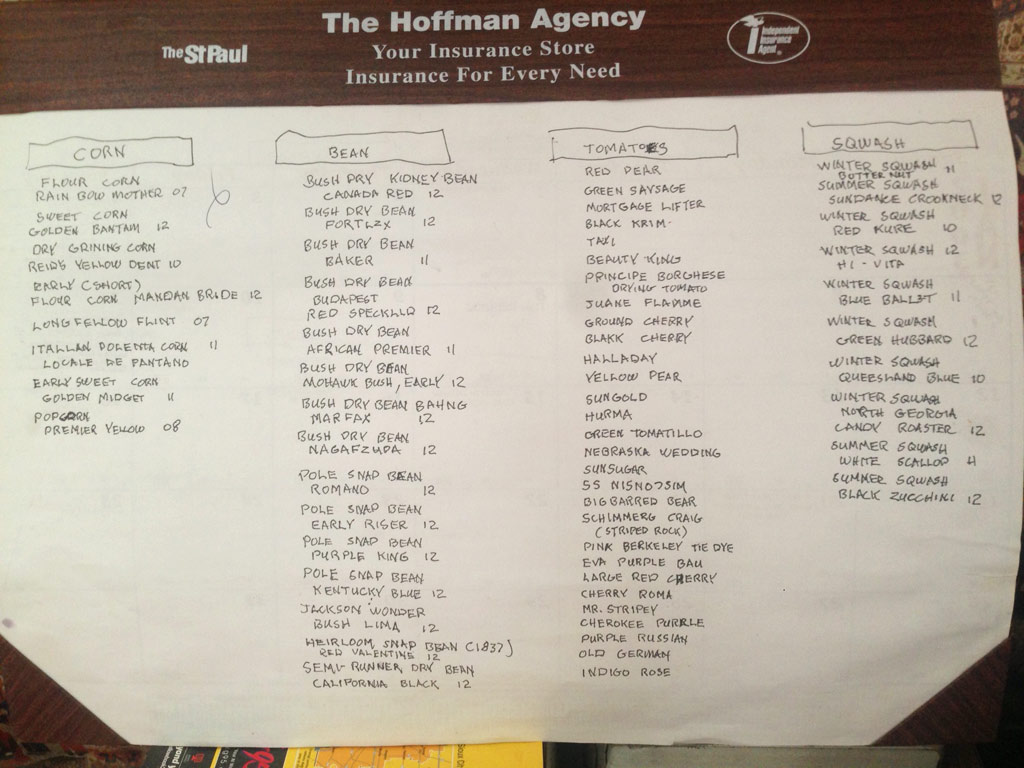 Here's a look at the first page of what the farmer intends to plant soon and harvest this year. Numbers on the right tell what year the seeds are from. I would especially like to try heirloom snap beans (ca. 1837), and also some Mortgage Lifter tomatoes.