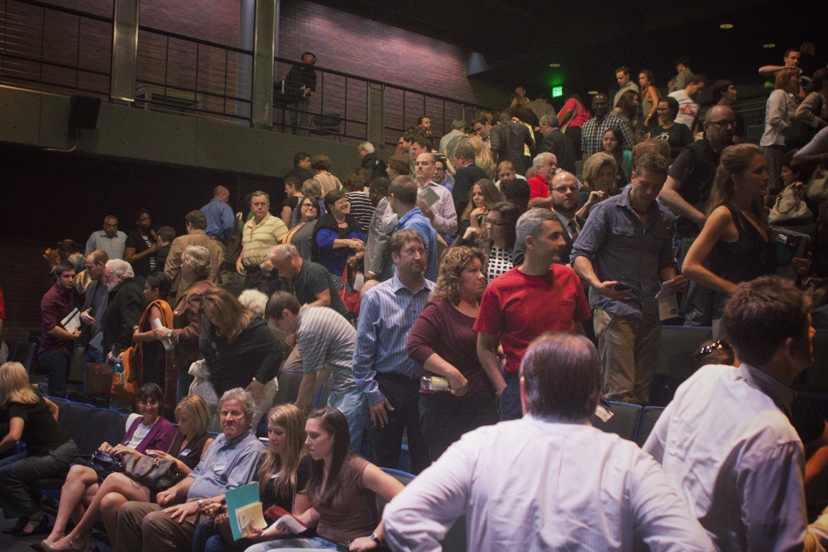 Companies in the film industry will soon be receiving 70 million from the State of North Carolina, thanks to an incentives program offered to bring their business to the state. At Discovery Place museum on Thursday, September 19th, On Location: The Charlotte Area Film Industry was an event hosted by the public radio station WFAE as part of their Public Conversations Series. The series is meant to convene Charlotte-area residents for the discussion of timely matters, hoping "to serve as a catalyst for community dialogue" and encourage "a stimulating and enlightening exchange of ideas." The auditorium was filled to capacity with folks eager to learn more about and discuss the region's film industry and debate the pros and cons of the incentives package. Moderator Ben Bradford from WFAE opened the ceremony by introducing his two first panel guests, John Schwert from Fourth Ward Productions, and Paige Johnston Thomas, of C&J Casting. The conversation provided an overview of facilities and personnel on top of recent film, television and commercial production activities happening close to Charlotte and elsewhere in North Carolina. The dialogue opened to questions from the audience several times throughout the evening.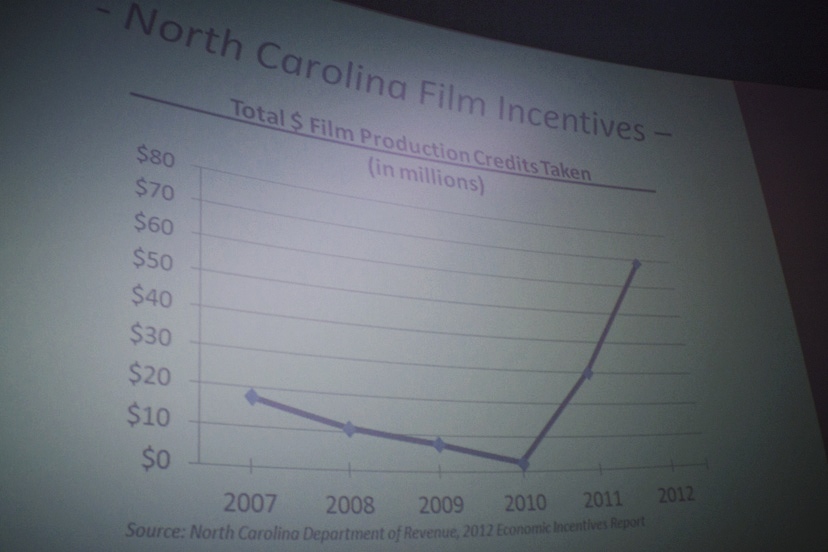 Audience members identified by their work in association with the film industry were called on to explain their businesses. Given the big business the film industry has brought to the state in recent years, each contributed to a diorama of how nicely different ancillary markets have been colliding. The owner of a grand-format printer made comments about how production companies filming on the east coast are ordering less from back home in Los Angeles, adding "we have been becoming the east coast Los Angeles." John Schwert spoke of places they go for the likes of big generators and cranes, keying in on how there is no one-stop-shop for the type of "bigger film problems, smaller [budget] films don't have." Mrs. Thomas, who has worked in casting for over twenty years, said "I never thought I would say this: Thank God for NASCAR," telling that of the casting for commercial advertisements her office does, nearly seventy percent relates to NASCAR. Paige said for a company like Miller Light, it's a "big New York or Los Angeles ad agency coming here and we cast everything except the driver." In Mrs. Thomas' response to general topics of what we have here in Charlotte she spoke of vivacity, saying "North Carolina has become a new hot market, we're getting a lot of calls and repeated calls from customers we worked with years ago, we're constantly busy and the actors are working."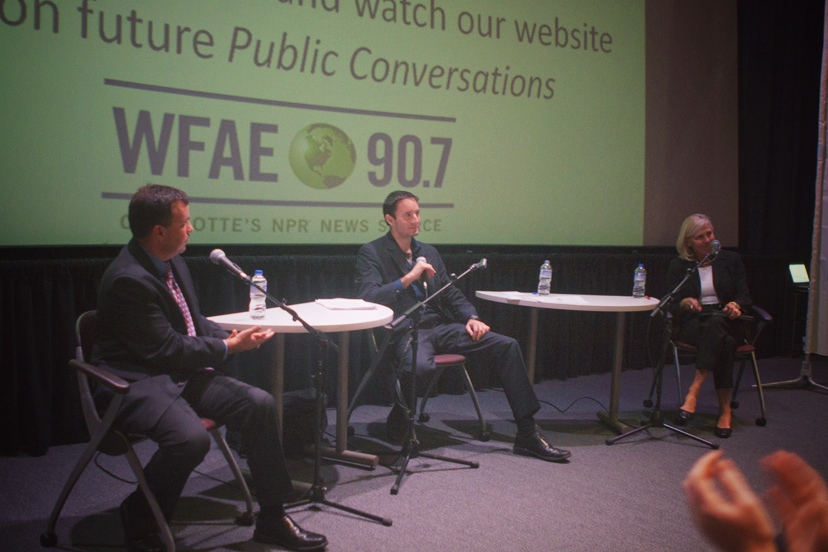 While there are more and more opportunities opening up for local actors to move through the ranks, for local crew and personnel to fill lead roles, larger film companies are still bringing their production leads and big names from out of town. Insignificant Others was mentioned as entirely North Carolina cast, highlighting the on-going talent surge occurring since more films have started being shot here. Several questions from the audience during the first panel were from actors, about things like how to improve the presentation of their auditions and the level of opportunities for African-American females. An individual asked if casting is influenced by whether or not an actor is a member of the Screen Actors Guild (American Federation of Television and Radio Artists' Union), another asked if in the foreseeable future there might be more post-production opportunities remaining in the state following principal cinematography, and a gentleman who owns a music and audio production studio in Charlotte asked about the nature of opportunities for audio engineers.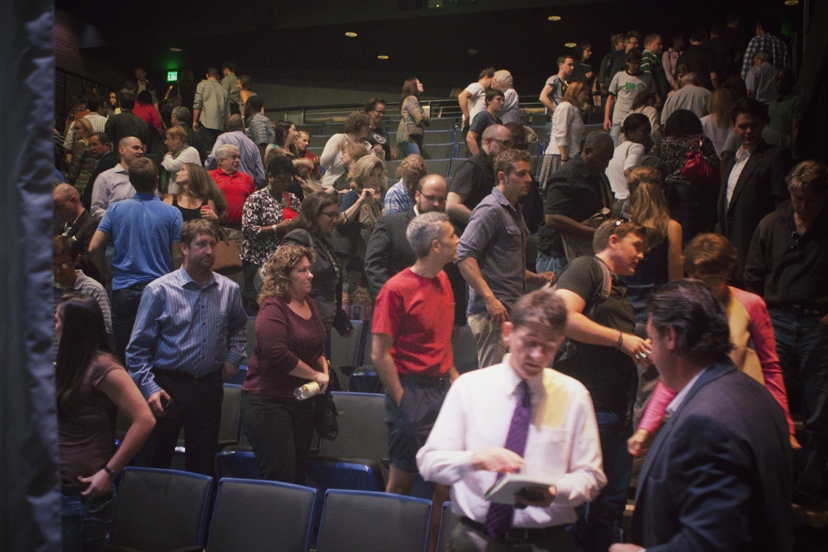 Mrs. Thomas suggests going to an audition "in the essence of your character," that casting agencies "want to feel they are hiring someone who embodies that character." Mrs. Thomas acknowledged the importance of diversity especially in commercials, and that throughout the business "the African-American race is just as strong as any other." Where Mrs. Thomas explained that being a member of the union has no effect on casting, again that it is about whether the person can fill the role successfully, Mr. Schwert pointed out that potential issues might arise during the production of a film and it is not looked at during casting. Mr. Schwert named Concentrix Audio as one that has worked closely on sound design for several major features, explaining how companies will look for an audio house to handle the soundtracks for an entire project. It was interesting to hear that Homeland and Hunger Games built their own sound stages in Charlotte. He introduced the term runway productions, as such became known in Hollywood when packages were offered by different parts of California (paid hotel, etc.) and more productions began choosing to film outside the 100-mile radius of Hollywood & Vine.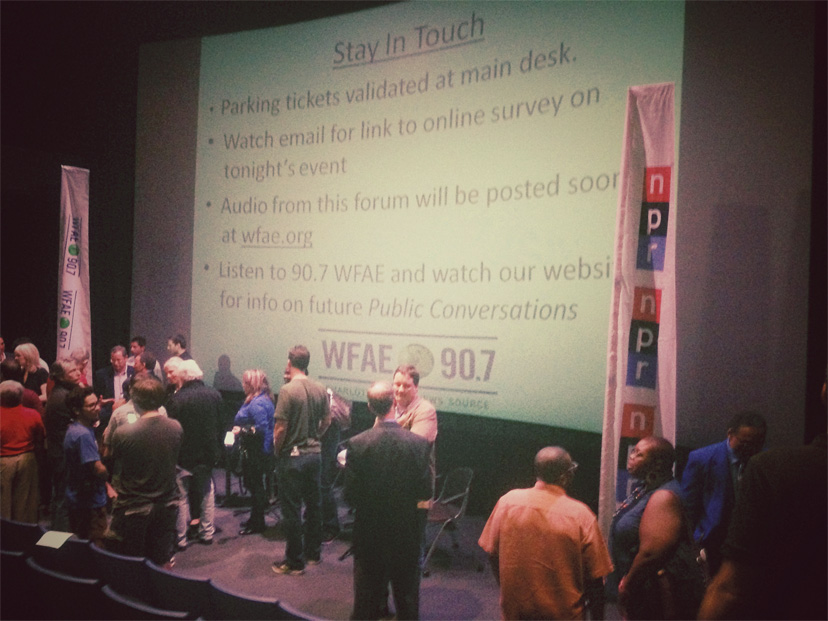 During the second part of the conversation, panelist NC State Representative Becky Carney of Mecklenburg County, alongside panelist Jon Sanders, a John Locke Foundation economist, both held court on respectively opposing sides of the table and both offered frank, earnest arguments. The second half elucidated various arguments for and against the legislation, bifurcated opinions providing various pieces of inferential evidence as to how the program proffers the state. Passionate questions and remarks from the audience filled the second half of the conversation, attesting to many a personal take and angles regarding with uncertainty whether the industry would continue to thrive here without the incentives. North Carolina, competes with 36 others states that also offer film industry incentives. Currently, and what will be reevaluated leading up to when when this program expires in 2015, when a film company spends $250,000 or more (in North Carolina) they qualify for a 25% cost payback. Georgia offers the most, a redeemable 35%, and in the early nineties the first state to offer such a program was Louisiana. The economist Mr. Sanders, posited the hypothetical of why you might choose not to cut corporate taxes in order to grow the economy, saying that "tax breaks increase investment." A woman from the North Carolina Film Office floated the question of the amount going back to tax revenue, stating that the current estimate is 67 million out of the 110 million the state has paid back since 2007.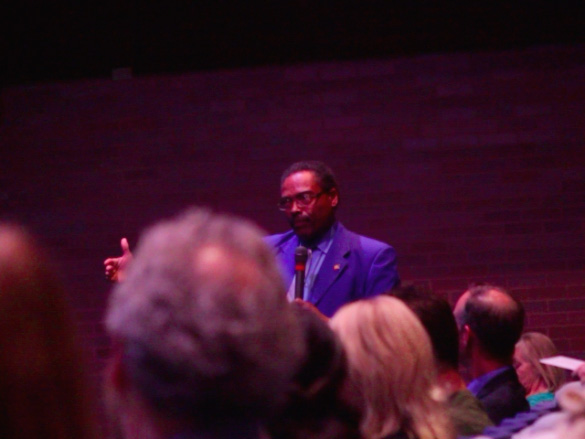 North Carolina Representative Kelly Alexander, also in attendance, described the film industry as an unprecedented form of manufacturing, a unique and invaluable player stimulating various levels of the local and regional economy that invariably profits a diverse sphere of businesses. Representative Alexander spoke comically, introducing himself with relevant information on his second job, "I'm prejudiced as a funeral director, one of my cars has been in a film, but I haven't" and talking about how "the incentives are to develop an industry as opposed to something specific like a whale skinning factory." A Charlotte businessman and the owner of Reelworks Studios (Homeland dallies) stated his confidence based on his knowledge of film financing that without the incentives companies would not come here, period. A large contingency of the audience at the event on Thursday showed support for continuing what the state has already offered the big film biz. The voice of different actors, advocates of the arts, business owners and industry experts contributed to the conversation, stressing the importance of this bill for retaining an active film industry that promotes the sustenance of culture within North Carolina.