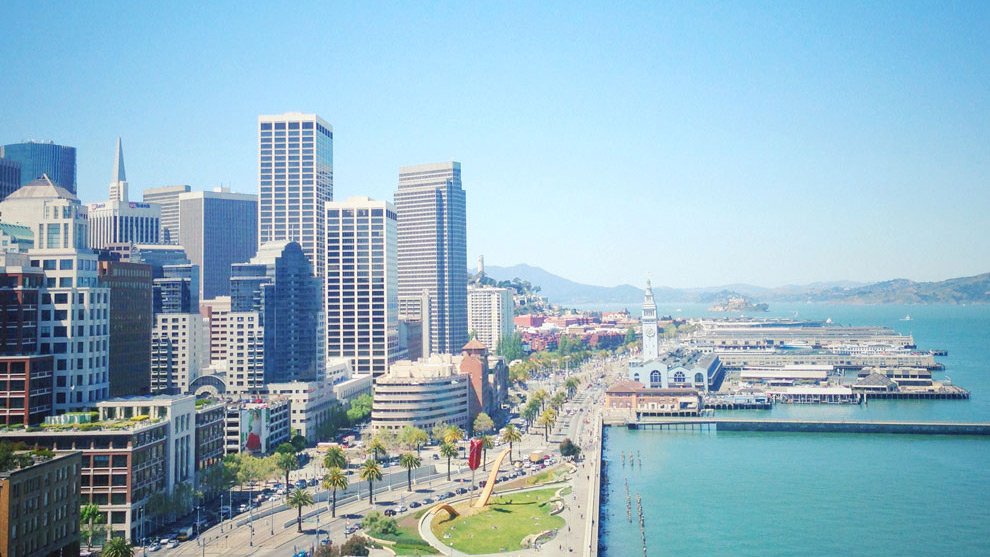 Without seeing fog or clouds in the sky once after arriving in California on Thursday, I had a wonderful time visiting the Bay Area after a half-day driving South from Oregon.  Since the last time I was in California several years have flown by, all the while I've recalled what fun it is being there and how I'd like settle down there sometime in life.  Chance looked good there would be favorable conditions for sailing in the bay.  Saturday there was a windsports gear swap, whereat I helped sell some equipment.  Over the course of the trip I got talk with some interesting people, romp around the city w/ friends on four-twenty, and go kiteboarding!  After returning to Oregon, I'm glad to have brought back pictures from the trip and a fun stories of adventure California!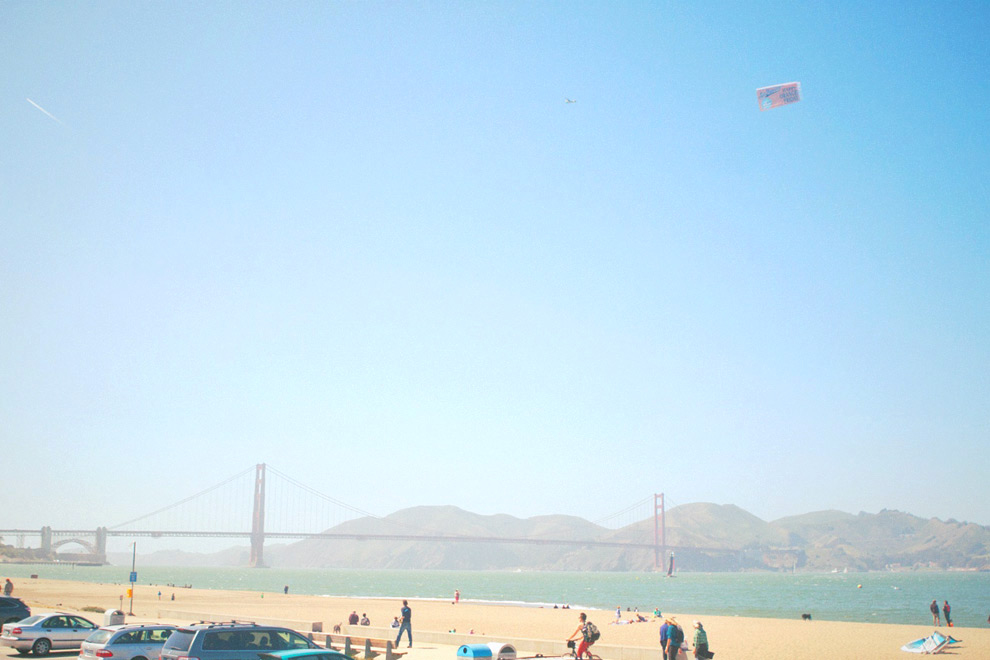 Thursday at Crissy Field.  Crissy Field is part of the Golden Gate National Park system, and in addition to great beach access, bike paths, barbecues, and a visitor center, a considerable amount of land along the waterfront is protected nature reserve.  Parking is free at Crissy Field, and it's a great walk in either direction, west to the boardwalk (non-commercial) and Golden Gate, and east to the yacht club and towards the Embarcadero.  Recently, a friend of mine who grew up in Marin County cooked a dish for me called Mount Tamalpais chickpea stew.  Mount Tamalpais is across the bay in the picture, where cars can drive up nowadays.  Stinson Beach is further up the coast, where Jerry Garcia lived.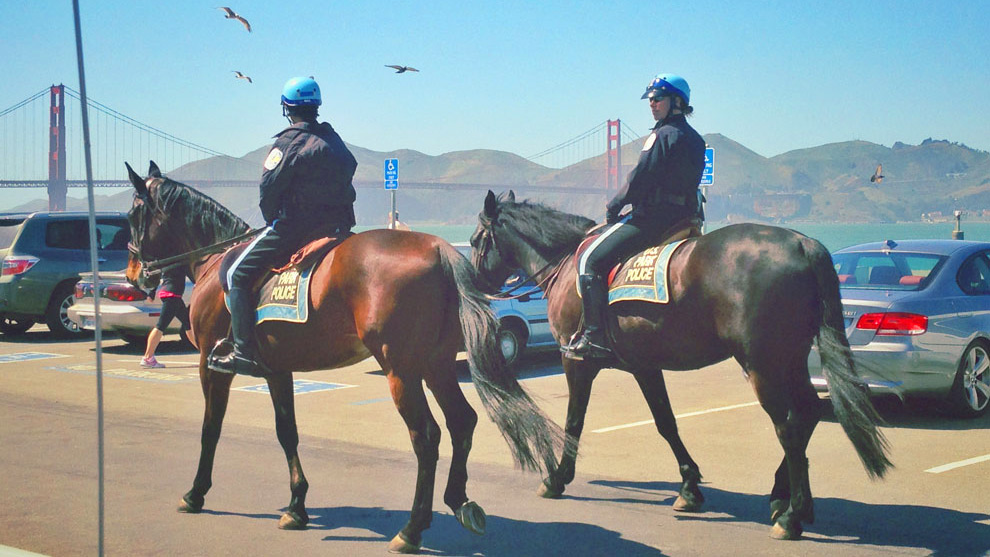 I wish I had asked the park police their names!  Leave me a comment on this post with make-believe names for these horses.  Looking at this picture and thinking what to write, now I'm wondering why it seems strange there aren't lifeguard posts on the beach, and why San Francisco might not be the best fit for the scene of a Baywatch redux.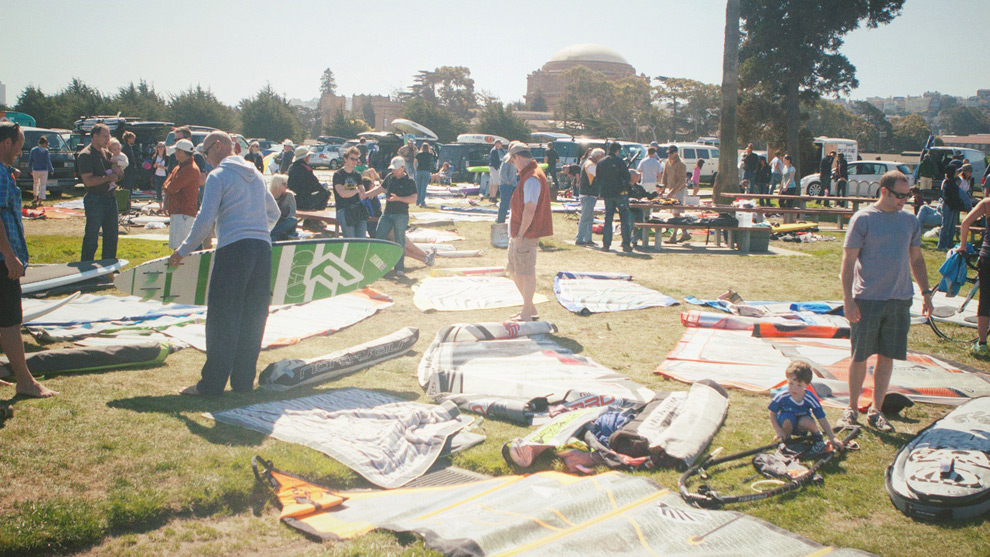 This picture shows approximately one quarter of all the equipment there was for sale at the gear sale on Saturday at Crissy Field.  There's a great range of different types of equipment available whenever this sort of windsports event happens, typically once or two to three times during the season depending on where.  A lot of people were arriving shortly after sunrise to catch nice parking and an opportunistic place to stake out anything from windsurfing sails, masts and booms for windsurfing, sailboards, stand-up paddle boards, kiteboarding equipment, and more.  I had fun going around talking with people throughout the day.  A nice lady, whose name is Amie, had several copies of the New England Windsurfing Journal, and she offered me one saying that she writes articles in there every so often and that it is one of the last publications dedicated to the sport that remains in North America.  In the background is the Exploratorium, there's a nice park there, some other attractions.  The newly built Lucas Film studios, is also nearby.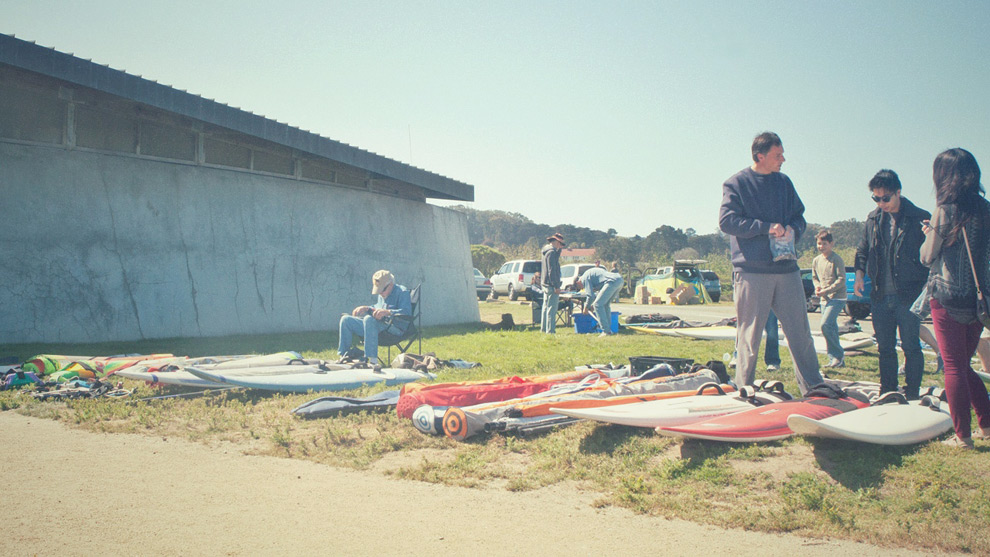 That not enough young people are joining the sport, is a problem the windsurfing industry has been facing for a long time.  Insofar as to say "name your own price," someone told me they were practically giving stuff away!  There's the outdated and overly bulky gear people hope to get rid of, lots of well-used but still in fairly-good condition sails, lots of slalom and wave boards in good condition and a reasonable amount of almost-new stuff that people only used a couple times and want to sell for a decent price.  Thousands of dollars cash change hands throughout the day and people are happy to find a good deal on equipment for their sport.  One person sells something of theirs and will often go get something from somebody else they might need for themselves.  Also on Saturday, there was a regatta in the bay, and good wind.  There was anywhere between fifty or sixty sailboats on the water, gigantic tall freighters in the distance, and two of those ridiculously fast rigid sailboats practicing for the 2013 World Cup sailing in San Francisco.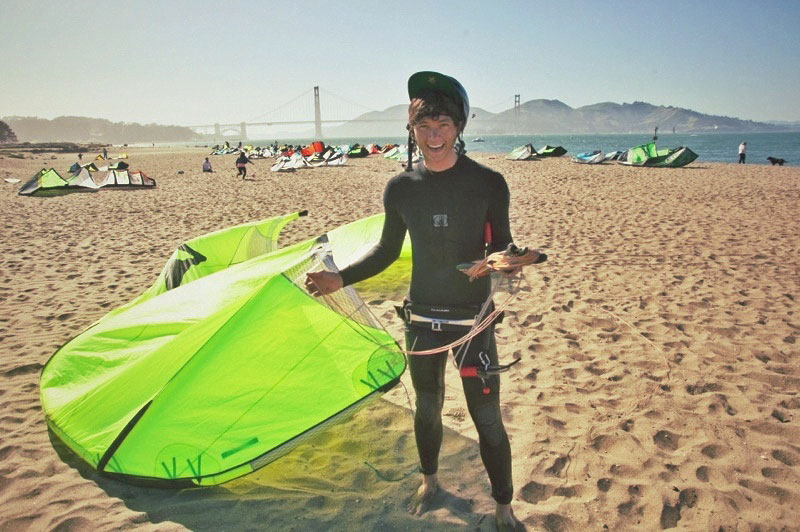 I got to go kiteboarding on Thursday afternoon, when I went maybe a third of the distance across the bay.  Getting in the ocean water was refreshing, the temperature was not as cold as in Oregon this time of year and the scenery was really surreal looking back at the the city.  At one point, by about a hundred yards, I was right in front of one of those catamarans moving real fast.  I thought I might get in a tangle and so tried to do what I thought necessary to lessen being at risk.  Later that day, there were many in a group of kiteboarders practicing racing slalom with large boards similar to the sailboards used in windsurfing.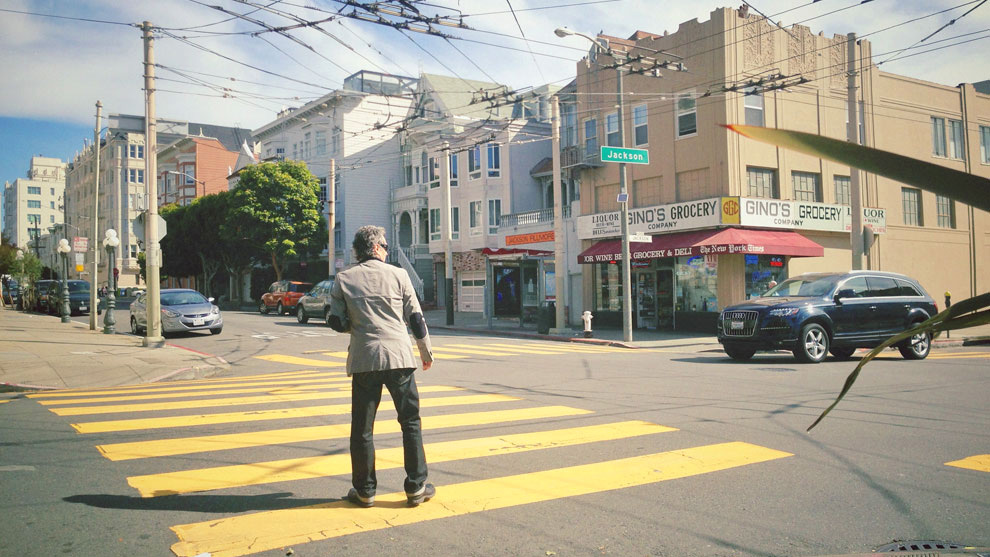 There's a Tully's coffee at this intersection on Jackson Street in San Francisco near the Pacific Heights neighborhood.  Oh wait, I guess there was a cloud..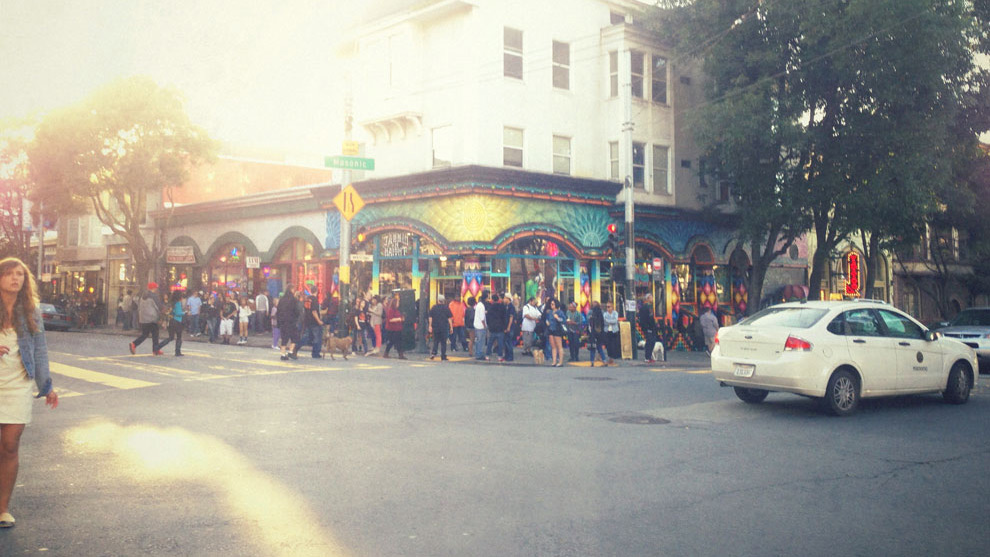 After hanging out at the beach on Saturday, I met with friends and went to Haight Street, where April 20th was in full effect.  I heard that a place known as Hippie Hill was a very popular destination earlier that day and would have liked to have gone there.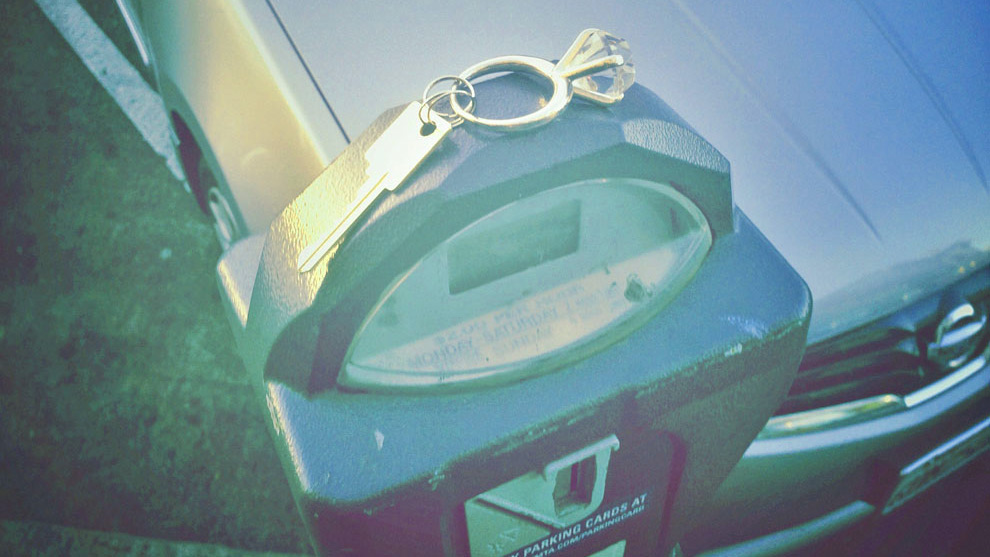 Something I bumped into on Clement St.  The sun was about to roll over to the other side at the end of the day, Friday evening.  Waiting on someone, and just standing on the sidewalk noticing others doing the same on either side of the street and compulsively walking up to this one meter and saw this key-ring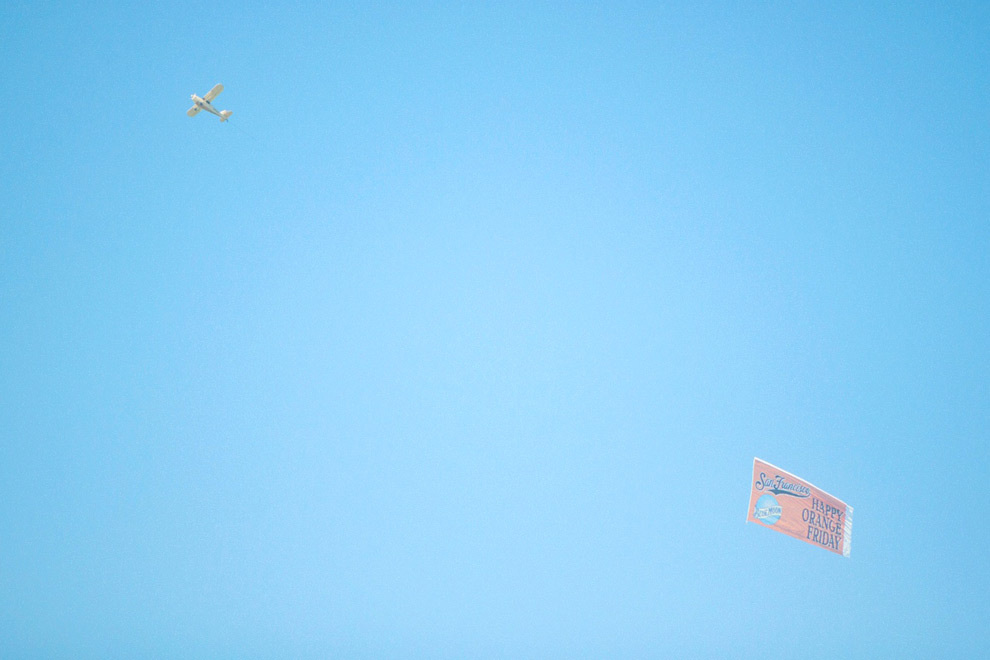 This was also on Friday.  The Giants were playing verse San Diego and won against them for the second night in a row.  People in San Francisco know Orange Friday to mean any given Friday when the Giants are playing a home game.  This sign behind the airplane says: Happy Orange Friday!  If nothing else, there's a Blue Moon to remind you!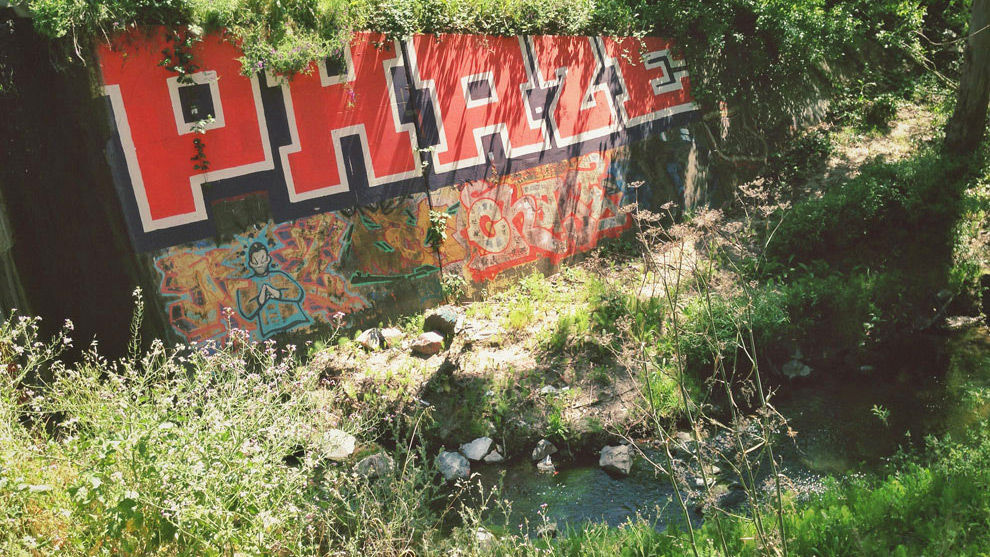 On the other side of the bay, near Berkeley, there is a lot of vibrant graffiti in different places tucked away and all over the sides of train cars.  The weather was persistently-nice, perfect for all-day tagging of stuff!  Even though the spelling of the word is wrong, I'm not sure I would call this graffiti because of how block-ish it is, and how legible.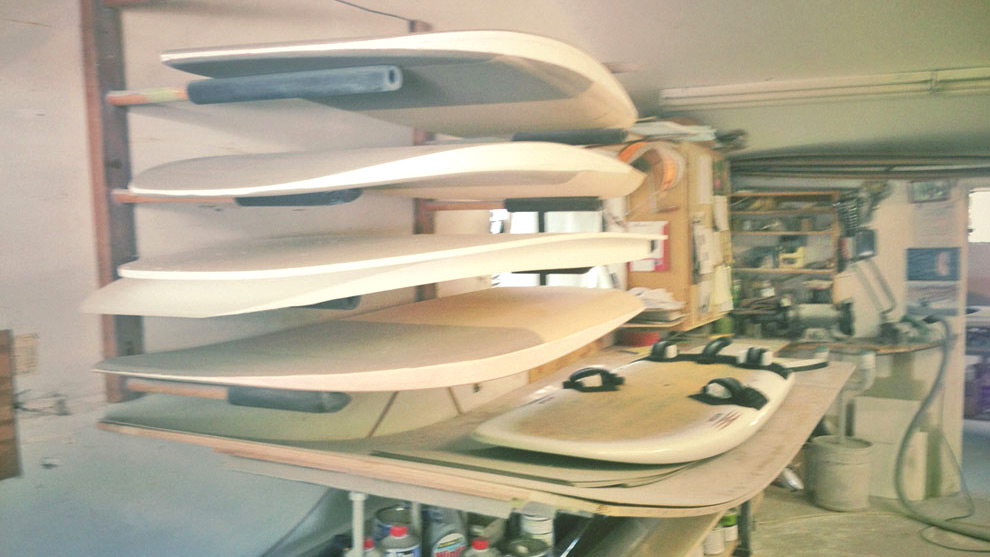 Before leaving for Oregon from Berkeley, California, I had the chance to swing by the workshop where a man there makes some of the fastest racing sailboards and kiteboards in all of the world.  Boards made here are used by top racers and have set records for top-speed kiteboarding.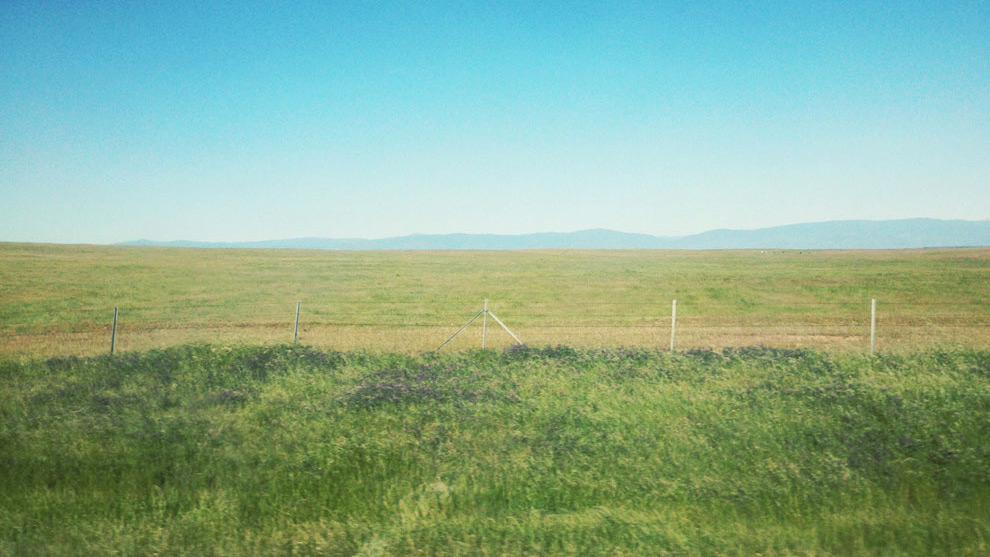 Meadows north of San Francisco, in this picture looking West across the valley at the hills beyond which is the Pacific ocean.  By far the best part of the drive, not far outside the bay area, a great stretch of rolling hills and untouched pasture.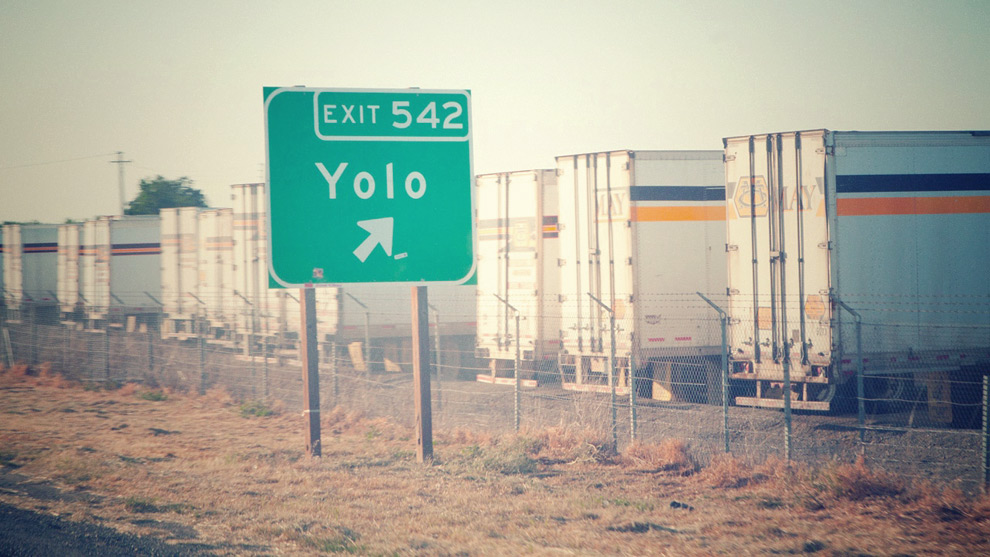 No one could tell me why, however, this town got famous recently.  Maybe it's famous for not knowing that it is famous.  Promise to do a better time investigating next time.  America is in a difficult period in history right now, there was a lot of tragedy and tumultuous news while I was traveling.  Peace be with everyone and the hope to share the love and inspiration that we can make the most of difficult situations.  Back to Oregon, one last picture! John Chao